Hooray! Your FREE gift is on its way!

It should be arriving in your email inbox in a few minutes
Please keep reading to take advantage of this special one-time offer
Get our popular Resume Templates Introductory Pack
for just $27
(it's a $60 value)!
What You'll Get!
5 Professionally Designed Microsoft Word Templates

Eye-catching and Modern Formats with Timeless Appeal

Easy to Use – No Design Experience Required

Designed to be ATS Friendly

Flexible & Customizable – Easily Change Colors

Quickly Rearrange or Copy Sections

For All Levels – New Grads to Top Executives

Yours to Use Forever for Yourself or a Client
Professional Resume Writers: Yes, your license allows you to use our templates to create standout, ATS-friendly resumes for your private clients!
Included in the Bundle: A Resume Template for Every Need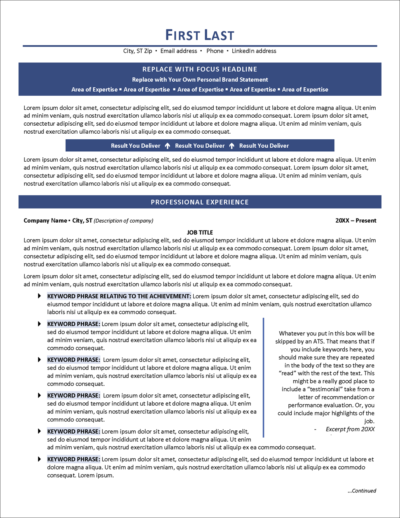 This attractive, easy-to-use two-page resume template helps to keyword-optimize your professional or executive resume.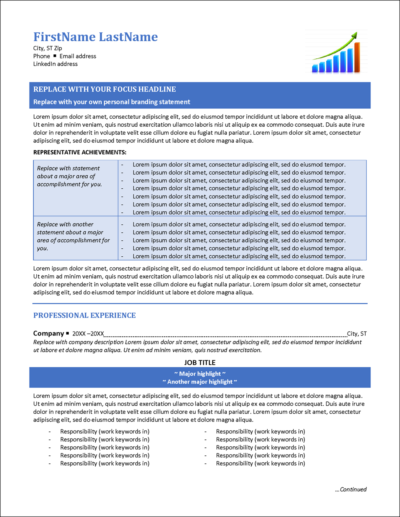 Designed in the combination format, this two-page resume template is perfect for career changers or any experienced professional.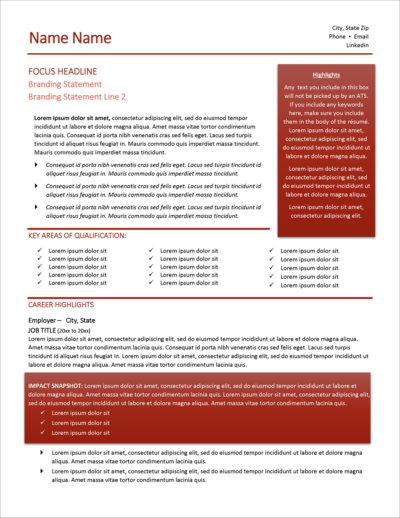 With its stylish, bold appearance, this two-page resume template makes creating a standout professional resume easy.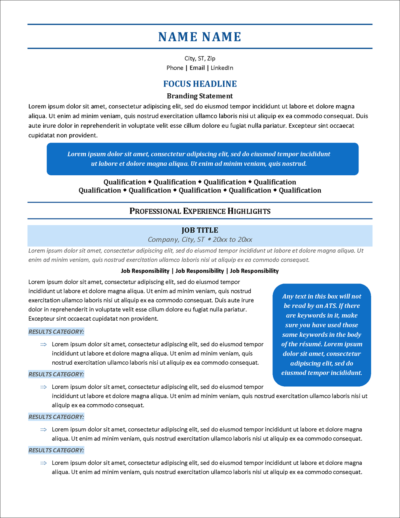 This versatile, two-page resume template can be easily customized for any industry and is suitable for professionals and executives.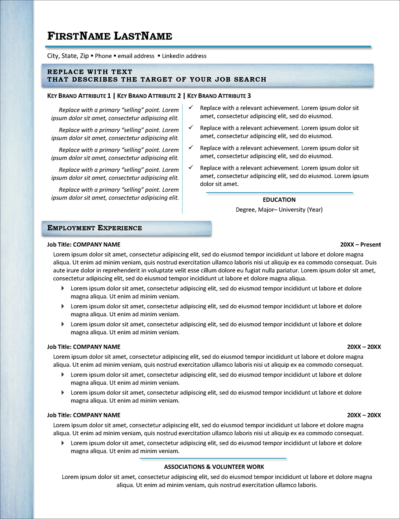 This easily adaptable, one-page template can be used to create a standout resume for both students and experienced professionals.
A GREAT resume ALWAYS begins with GREAT content, but if your content is already written, our Distinctive Resume Templates will propel your resume to the next level, providing you with a clear competitive advantage and ultimately saving you heaps of time and money, potentially slashing days, weeks, or even months off your job search. If you can copy and paste, you can use these templates. It's really that simple!
Using our easily customized, professionally designed resume templates will eliminate all the worry and stress of trying to figure this all out on your own. All you have to do is open the template and paste the elements of your own resume into the right spots.
Experiment with your five resume templates to find the design that is perfect for you or easily transform the look of your resume for different purposes or at different times of your career. Your templates are yours for life, to use as often as you want.
Distinctive Resume Templates are the Difference Between ORDINARY and EXTRAORDINARY!
Are you tired of worrying yourself sick over your resume, wasting opportunities and falling further behind in your job search because you just CAN'T GET IT RIGHT?!
Is your resume appearance outdated, unattractive, generic?
Our Professionally Designed Resume Templates Are Your Solution!
I wanted to let you know that in an interview today (large project management /consulting firm), I was complimented on the quality of my resume. The interviewer said it was one of the best he's seen…I thought you should know what an impact your work is making in my career search…
Now that the search is over, I want you to know that I have had more responses to my resume in the last 3 months than at any other time in my career. I have had multiple responses to cold call mailings. (a ten-fold increase over previous cold job searches)… Excellent!! I am a faithful supporter of your work. Thanks again.
Hi Michelle: hope you are well. Just a head's up that I've referred about 10 people from Xxxxxxx to you. Hope a few turned into clients. I never let you know that thanks to your services I was 'one for one' — one resume sent, one interview, and one job offer! That's all it took! Happy holidays.
With our Distinctive Resume Templates, you will easily TRANSFORM and REVITALIZE your resume in just one hour — even if you have ZERO design skills