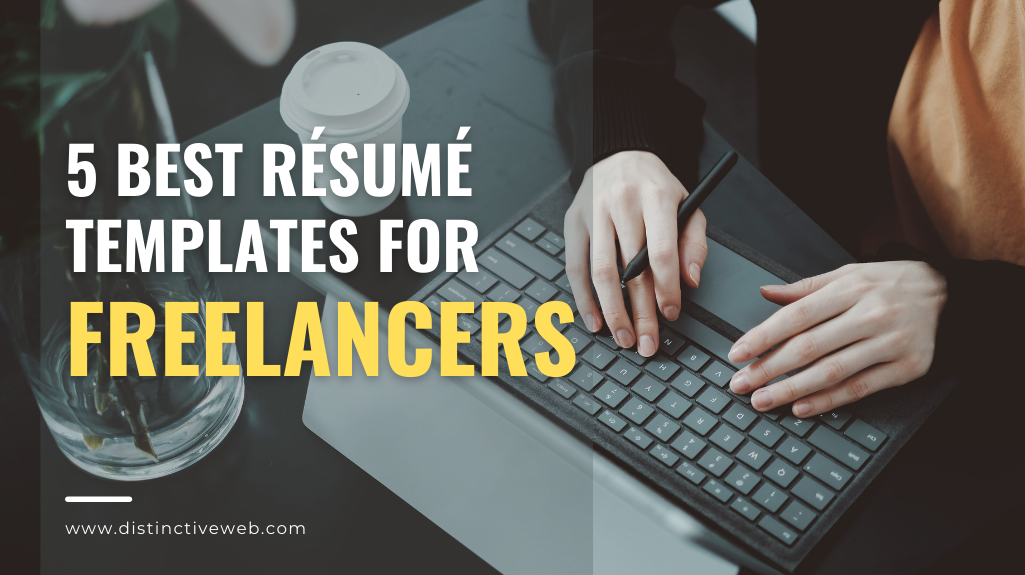 If you are self-employed and work in freelance, consulting, or temporary jobs, you know how critically important your resume is, assuming you want to get paid.
Unlike traditional employment, to make a consistent income as a freelancer, you must continually sell yourself to prospective employers seeking to hire a freelancer for a time-limited job.
Expert Tips for Making Your Freelance Resume
The problem is that writing a freelance resume can be challenging. Most freelancers work for multiple companies, doing multiple projects and maybe even doing them simultaneously. This makes writing a traditional chronological resume difficult. For most people, the solution is a combination format resume template made for freelancers.
A combination format allows you, the freelancer, the freedom to organize and present your freelancing experience on your resume in the best and most effective order. Using a quality resume template formatted in this way can make the entire process of creating your freelancer resume significantly easier.
The best resume templates for freelancers will have a number of commonalities, among them:
Your name and contact information listed in an obvious and easy-to-spot way on all pages of your resume (in the header of your resume).

A prominent spot for a focus headline. You don't want your reader to have to guess why you are sending a resume and in what area your expertise lies. This must be crystal clear on your freelancer resume.

At least the first 1/3 of the first page of your resume should be dedicated to summarizing your qualifications and the primary ways you can put your qualifications to work in a freelancing capacity for the company's benefit.

An experience highlights section that is flexible and easy to customize so that you may include your relevant experience in the most effective way. This section will often be formatted to emphasize each freelance gig as a distinct project rather than focusing on the chronology of your experience.

An education section to list your relevant degrees and any specialized training and certifications.
Other Career Documents for Freelancers
Other career marketing documents can be of great value to freelancers too. It is wise for freelancers to assemble an entire portfolio of self-marketing documents. Chief among the most helpful to freelancers are probably the following:
To present an especially professional image and make the best impression, you should match the style and design of all these career marketing documents.
The Most Popular Resume Templates for Freelancers
The best strategy for formatting your resume is the strategy that works best for you. Unfortunately, this makes the whole process of creating a freelance resume more challenging. After all, how do you know what is best for you?
Project Prestige Templates Collection
Designed as a resume template for project managers, the entire Project Prestige Collection is perfect for an experienced freelancer to build a standout freelance resume. Many people who work in freelance contract roles find it difficult to write a resume because a traditional reverse chronological style resume makes you appear to be a job hopper. The format of project prestige overcomes this problem with a structure that encourages you to list all your most important freelance projects under a single "employment" listing rather than breaking each out individually.
As a freelancer, you may also want to create a professional biography, and if so, the matching biography template and cover letter template will be of great value to you.
Consultscape Templates Collection
As a consulting resume template, the resume in the Consultscape Collection stands out. Tested successfully in real-world situations, the format of the resume in this collection applies a strategy similar to the Project Prestige Collection, but applies it in a different way.
A benefit of the Consultscape resume template is the way it prioritizes the summary of qualifications and key value offerings section, which combined take up more than half the first page. As a freelancer, this gives you a place to really highlight and call attention to the most relevant and important qualifications you bring relative to the type of consulting or freelance work you are seeking.
The matching biography and cover letter templates available in this collection, will be helpful to freelancers and allow you to make an impeccably professional first impression.
Trendsetter Templates Collection
The freelancer and consultant resume template in the Trendsetter Collection was designed specifically as a format that would work to avoid the appearance of job hopping for consultants, contractors, temp workers, and other freelance professionals. Similar to the Consultscape resume template, Trendsetter provides space to call out the highlights of all your most important past freelancing jobs but does it in a way that doesn't overwhelm the reader with details they don't need to know.
Like the other template collections, Trendsetter includes an optional biography template and a cover letter template.
Executive Impact Templates Collection
While it was designed as a resume template for executive leaders following a traditional career path, the resume template in the Executive Impact Collection takes a story-based approach to presenting executive accomplishments that could be easily adapted for a freelancer resume. Each bulleted achievement section in this resume could tell the story of an individual contract or consulting gig, and the results you delivered.
While this collection includes an optional designer biography and matching cover letter template, this collection also includes a template for your professional references.
New Horizons Templates Collection
Created as a resume template for experienced professionals, the resume in the New Horizons Collection would also make an ideal resume for freelancers who are looking for their first job in the gig economy. While the Experience Highlights are presented in a traditional chronological style, the Representative Career Achievements on the first page provide a prominent spot for highlighting your most relevant achievements and qualifications related to the type of freelancing gig you are pursuing. The template also includes space to include "testimonials" that will help the decision-maker understand the type of potential value you will bring.
As with the previous collection, New Horizongs includes an optional designer biography, matching cover letter template, and matching professional references template.