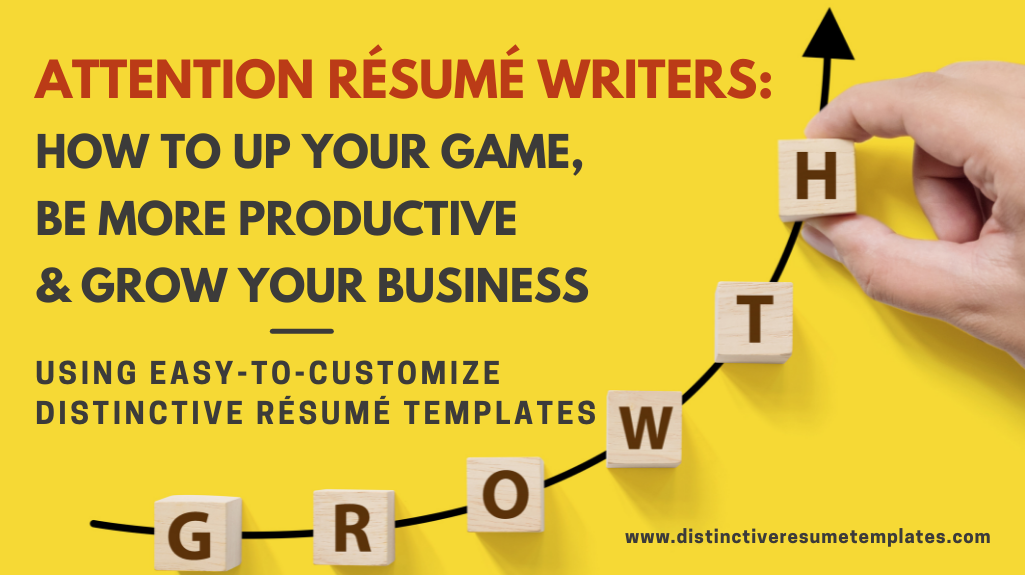 Professional resume templates created by a professional resume writer for other professional resume writers…
It was a bold move. For many reasons, most resume templates are shunned by professional resume writers.
The vast majority of resume templates available free or for sale are notorious for causing more problems for unwitting job hunters than they solve. These rigid, cookie-cutter templates are almost impossible to customize and make every job seeker look the same. The worst of them break all sorts of best practice "rules" for resumes and on top of that, are not ATS compatible. I address these problems and more, in this post. Templates such as these SHOULD be shunned.
The 3 Biggest Challenges That Resume Writers Face
For me, in all the years I have been writing resumes, when it came to my ability to scale and grow my business, and not just capture a competitive edge to begin with, but to keep that competitive edge, there have been three major challenges I have continually faced.
CHALLENGE #1: IT IS EXHAUSTING TO KEEP UP WITH CONSTANTLY CHANGING TRENDS
Technology is constantly advancing, and with it, the standards for resume creation keep evolving. In the past 30 years, we've seen resumes evolve from typewritten and photocopied documents, to simple resumes created using word processors, to scannable resumes, then digital resumes that could be emailed, and today: resumes that are ATS compatible. But as soon as you think you've learned the "rules" for creating an ATS-compatible resume, guess what? ATS technology advances and the guidelines for creating an ATS-compatible resume change too, you have to find time to study up again!
It is downright exhausting and time-consuming to stay on top of it all!
CHALLENGE #2: OUR WORK IS TIME-INTENSIVE AND WE TRADE OUR PRECIOUS TIME FOR MONEY
This is one that was for many years, a constant challenge for me…
No matter how you cut it, as service providers offering a skilled craft we are trading our time for money.
And frankly, for most of us, writing a great resume for a client is a very time-consuming process and our income is limited by how much we are able to produce. This makes it incredibly hard to grow or scale your business in any appreciable way.
You can try writing faster, but inevitably quality suffers when you try to rush the creative process. Or maybe you try to raise your prices as a way to increase your income, but of course, when you raise your prices your clients expect commensurate quality and this means you end up spending more time per project.
CHALLENGE #3: WRITING AND GRAPHIC DESIGN ARE TWO DIFFERENT SKILLS SETS!
We. Are. WRITERS. Professional resume WRITERS. Not graphic designers (at least, not most of us). While both of these…the writing and the design…require creative talent, they are completely different skill sets.
Of course, this distinction never used to matter. Especially back in the days of scannable resumes when we NEEDED to keep the resume design as clean and simple as possible to ensure that the resumes we wrote could be scanned properly.
But, a decade ago, or sometime around there, design standards began to change. At first, the trend was slow to catch on, but then it caught steam and the shift was like a freight train.
Suddenly graphically enhanced resumes that incorporate color and charts and graphs and other design elements were the norm, the expectation.
So now, if you are a resume writer and you want to stay relevant and competitive and you want to deliver quality, modern, results-producing documents to your clients, your talent as a resume WRITER isn't enough.
Now you need to learn the specialized skills to design the eye-catching resumes that your clients expect. And if that wasn't enough, going back to challenge #1, you need to learn how to design these resumes in ways that are still ATS compatible.
And guess what? All of this has just made things even harder when it comes to challenge #2, because – even for me, and I have learned to love designing attractive resumes – creating a graphically enhanced resume is incredibly time-consuming.
But, of course, all of this is moot if you don't know HOW to design an ATS-compatible but eye-catching resume. And from talking with other resume writers, I can say this is the camp that the majority of the profession falls into.
And it really doesn't matter whether you have been in the industry 25 years like me or are brand new. It was almost certainly your talent for WRITING that called you to this profession. NOT spending hours and hours and HOURS messing with the design of resumes, tweaking fonts and margins and colors, getting more and more frustrated because you just can't get it right and in the meantime you fall further and further behind in your work, cutting into your income in ways you can't afford.
The Solution
Distinctive Resume Templates have been the solution to all three of these challenges.
Design skills are no longer required! Using templates in my practice has given us the capability to consistently deliver top-quality, modern, custom-designed, ATS-friendly resumes to every client.  Our writing team is free to focus on what they do best: Consulting with our clients and writing powerful, compelling resumes that get results.
The formats, the designs, even the color schemes are easily customized and personalized for each client. Even better, the resume templates save the resume writers countless hours of time and frustration. They have improved our efficiency and productivity, increased our sales, and strengthened our competitive edge.
Using Distinctive Resume Templates will allow you to reap the same benefits for your own resume writing practice!
All of the templates are available for individual purchase, but for anyone who works with job hunters and helps them to create resumes–not just professional resume writers but also career coaches, career counselors, recruiters, and others–the most economical way to get access to the resume templates (plus many other bonuses!) is through our Distinctive Resume Templates Insiders program. Check it out and don't hesitate to reach out with any questions.