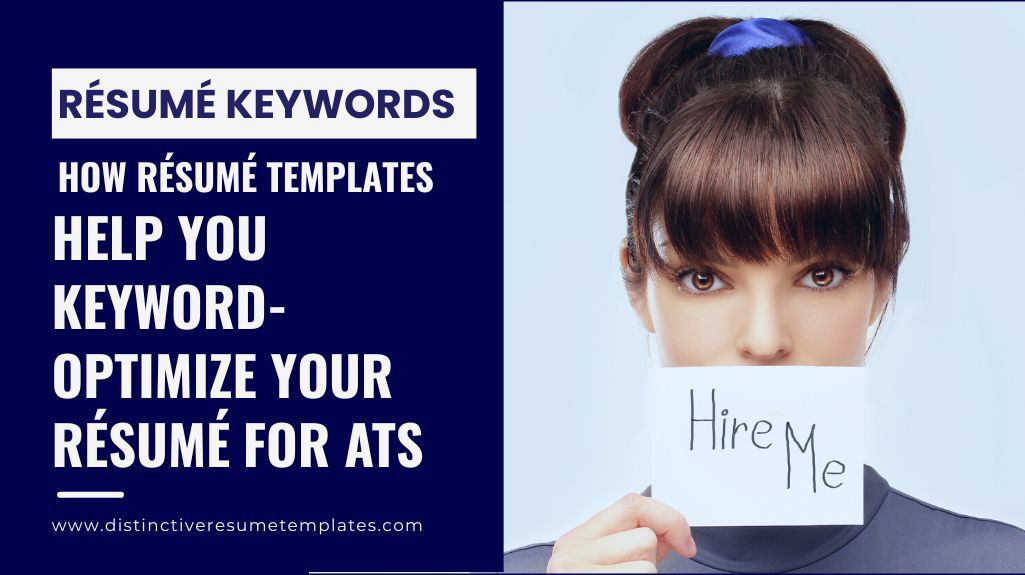 Optimizing your resume with resume keywords has never been more important. It is also essential that your resume is ATS compatible, and these two requirements for a modern resume and job search are inextricably linked.
What Is An Applicant Tracking System & Why Do Keywords Matter?
Applicant Tracking Systems, or ATS, are software programs used by recruiters and human resources departments to track job candidates throughout the hiring process. One key function of ATS involves parsing the content of resumes and job applications so that they can be stored in a database.
The design and format of your resume must be ATS compatible to ensure it can be parsed correctly. This is why it is so important to use an ATS-friendly resume template.
But, even after your resume is accurately entered, it is more important that it is accurately recalled. In other words, once your resume is entered into that database, it won't do you any good if it gets lost in a black hole of other resumes, never to be seen again.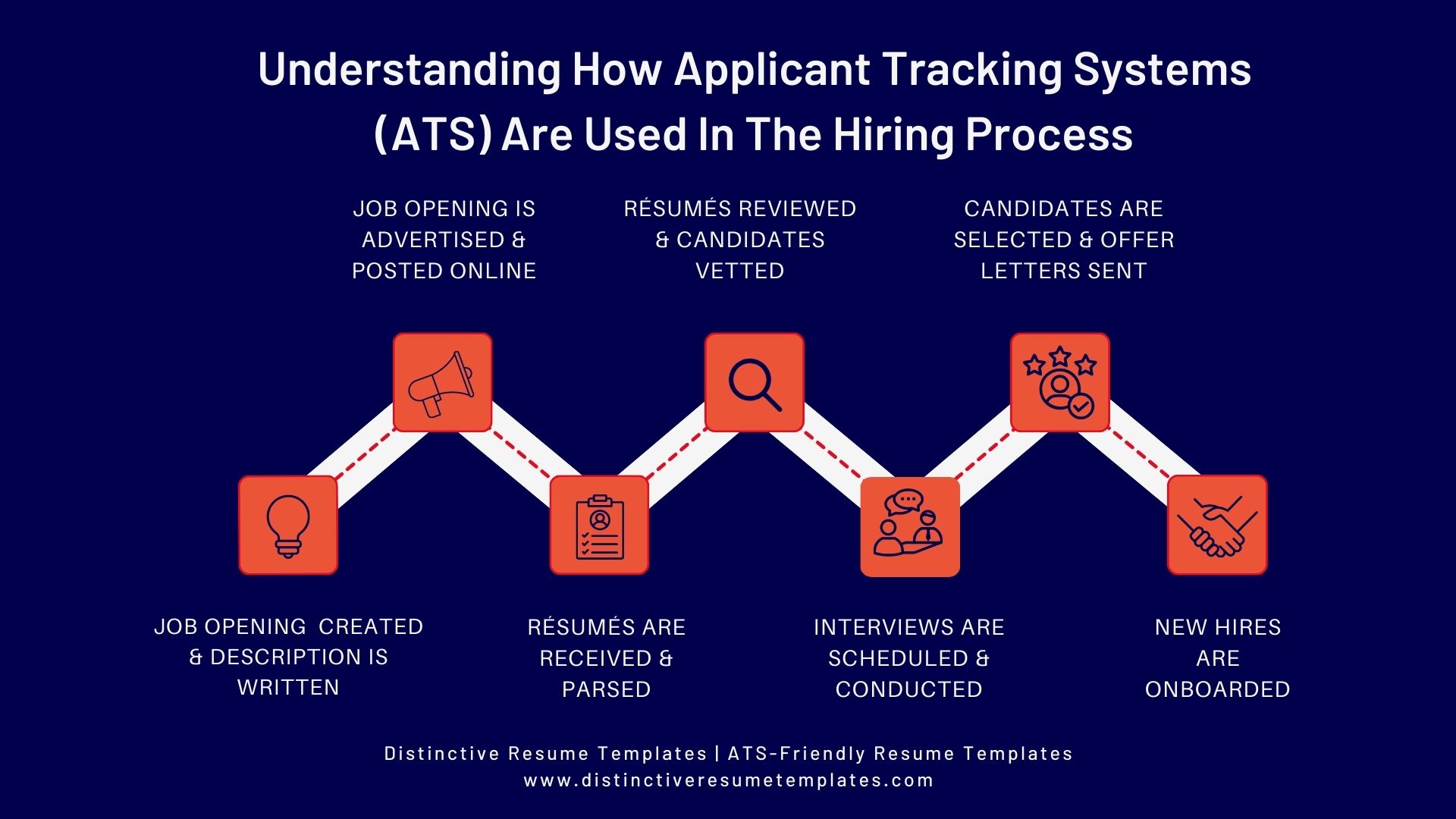 Share this Image On Your Site
Your goal is to ensure your resume aligns with the job opportunity that interests you most so that it is selected from the database as belonging to a person who is an excellent match for that job.
Resume keywords are how this match is made.
A simplified way of understanding an ATS is to think of it as similar to a search engine like Google or Bing. Just as you use keywords when searching for something online, keywords in your resume tell the ATS what your document is about.
If your resume lacks the right keywords, it will get lost in the sea of other applicants. To ensure your resume gets seen and read by a hiring manager, you need to incorporate keywords that will help it pass through that ATS hurdle.
But which resume keywords should you use? Keep reading to find out…
Use Keywords From the Job Posting
When a company posts a job ad, they include specific words and phrases that describe the qualifications sought for the role they're looking to fill.
These could be industry-specific terms, they may be hard skills required for the job, or they may be soft skills desired for the role. For example, if you're applying for a job as an accountant, some keywords might be "financial analysis," "budgeting," or " QuickBooks."
Job listings often include soft skills that are sought—such as "attention to detail" or "ability to work independently."
Be sure to include these same phrases on your resume, writing examples to show how you have used these skills. While these soft skills may or may not be used as ATS keywords, once your resume is pulled from the ATS for the hiring manager, they will help show that you have the qualities they're looking for in a candidate.
Other keywords to use might be the names of education degrees, such as a bachelor's degree or other certifications or credentials.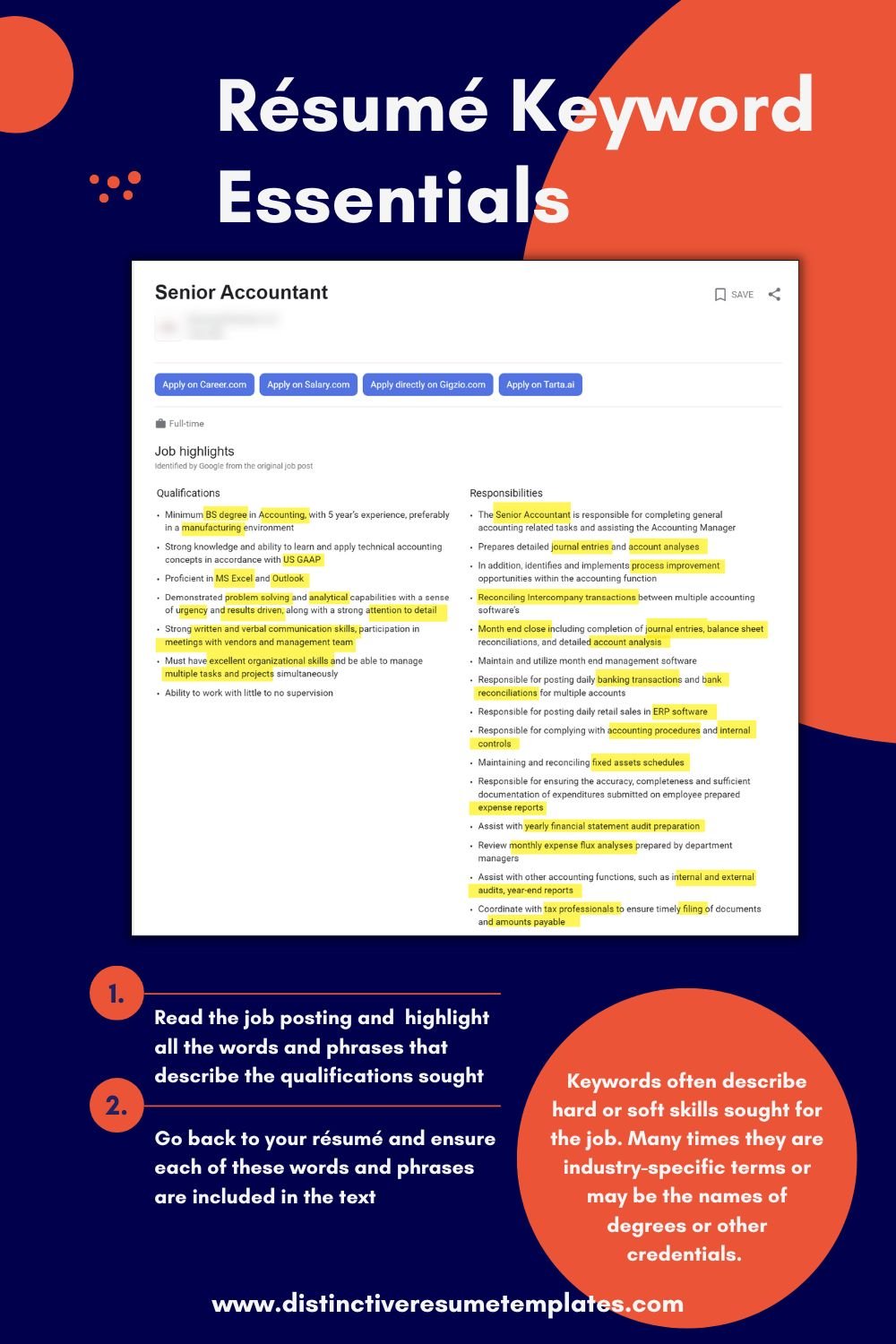 Share this Image On Your Site
Use Keywords from Your Industry
In addition to using keywords from the job listing, you should also use other keywords specific to your industry.
These are terms that someone outside your field might not be familiar with but are essential to understanding what you do.
For example, if you work in information technology, some industry-specific keywords might be "cybersecurity," "coding languages," or "cloud computing."
By including these types of keywords in your resume, you can show hiring managers that you have a deep understanding of your field and the specific skills necessary to excel in it.
Use Resume Keywords Strategically
Once you have identified which keywords to use, it is crucial that you use them strategically throughout your resume.
Keyword stuffing, by including a dense list of keywords at the end of your resume, is not effective.
Give thought to where you include the keywords and how you include them. Resume keywords used in the context of accomplishments illustrating your skills and experience will often have more weight in the ATS scoring.
In other words, it is an effective practice to include a resume summary with a skills section, and you should include your most important keywords throughout these resume sections. But you should also use resume keywords throughout the reverse chronology section of your work history, using keywords in your job descriptions.
The Best Resume Templates to Create a Keyword-Optimized ATS Resume
The design and structure of all Distinctive Resume Templates have been created to be ATS-friendly. But beyond this, many of the templates have been designed to make it easy for you to include keywords throughout your resume.
This means that we have created templates that help you to include keywords in a way that will catch the attention of the person reading your resume, as well as the applicant tracking system. For example, you could bold or italicize the keywords or use them in bullet points.
The following are some examples. Each collection includes a resume and cover letter and many times other documents such as a designer bio, professional reference sheet, and resume addendum.
The Bottom Line
In today's job market, ensuring your resume is optimized for ATS is more critical than ever. ATS software programs store, sort, scan, and rank resumes based on specific keywords and phrases.
So if you want your resume to be seen by a hiring manager—and not get lost in a sea of digital documents—you need to pay attention and include the right keywords in addition to making sure your resume is ATS compatible.
While the right words to use in your resume will be very specific to you and the job you are applying for, we've provided you with expert keyword identification strategies.
By following these tips and using these ATS-friendly resume templates, you can give your resume a competitive edge by writing a keyword-rich resume. Doing so significantly increases your chances of getting your resume into the hands of a hiring manager.